An LLC, or limited liability company, has a business model that marries components of both a corporation and a partnership. This model makes the process of dissolving an LLC slightly different than that of other companies. LLC dissolution laws can vary from state to state. Below, we'll review the steps you need to take to dissolve an LLC in the state of Florida.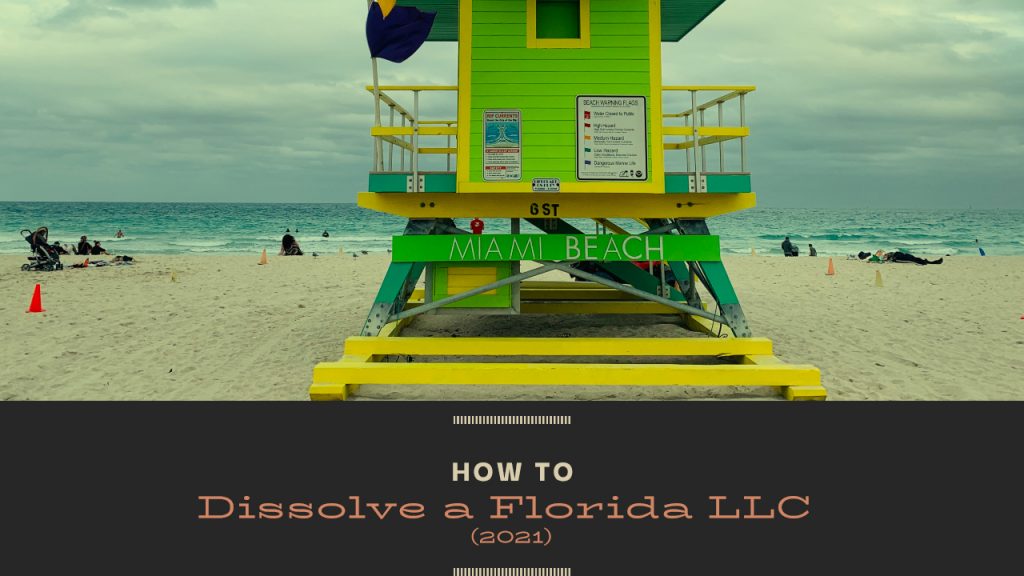 Step 1: Hold a vote with members to finalize the decision to dissolve.
In an LLC, members must provide approval for the dissolution process to proceed. For this step, you should first consult the formational documents of your LLC. These papers may call for a member vote and require a certain percentage of members to approve for the dissolution to be made official.
If no information regarding member approval for dissolution is included in the documents, you can move forward according to the LLC Act in Florida law. This law allows for voluntary dissolution with the written consent of all members.
Step 2:

Inform creditors of the dissolution and settle the creditor's claims.
According to Florida's LLC Act, your LLC must pay creditors first, before paying members or distributing assets. Sending a notice to creditors of the dissolution is voluntary, but it's wise to do so. If you don't notify creditors of the dissolution, you risk receiving claims after distributing assets to members.
One method of notifying creditors under Florida's LLC Act is sending a written notice. The notice should contain specific information, including:
The mailing address to which claims can be sent

A deadline to send claims in, at least 120 days after the date of written notice, after which claims will be barred

A statement explaining that distributions may be made to other claimants and members after the deadline, without further notification
Step 3:

File Articles of Dissolution with the Florida Department of State.
To dissolve an LLC in Florida, you need to file Articles of Dissolution with the Florida Department of State. These documents may be submitted in person, by mail, or online. The Florida Department of State provides online dissolution filing services to make the process as efficient and convenient as possible. The provided online form meets the minimum filing requirements under Florida law, but you may also use your own Articles of Dissolution documents.
The Florida Department of State requires a $25 filing fee for the dissolution of an LLC. It typically takes one week for Articles of Dissolution to be processed, but online filings are processed in as little as two to four days.
After the documents have been processed, you'll receive a letter of acknowledgment by mail. You can print a copy of this letter from the Department of State website.
Step 4:

File a final tax return with the IRS and the Florida Department of Revenue.
For the dissolution of your Florida LLC to be official, you must close out all of your tax obligations. You'll need to file a final tax return for the LLC with the IRS and check "final return" on Form 1065 or Form 1120, depending on your business tax classification. You'll also need to pay any owed sales taxes to the Florida Department of Revenue.
Step 5:

Cancel business contracts, licenses, and leases.
Any leases, contracts, licenses, or permits under the name of your LLC need to be canceled. You'll need to contact the local office at which you applied for a permit or license if it wasn't issued by a Florida state agency.
Step 6:

Distribute the remaining company assets to members.
Once all taxes, fees, debts, and other financial obligations have been paid off, you can distribute the remaining assets among members. First, the capital account for each LLC member should be cashed out. Then, any leftover assets can be distributed based on ownership percentage.
Step 7:

Inform employees and clients of the dissolution.
It's important to maintain positive business relationships throughout the process of dissolving a Florida LLC. This is especially important for anyone planning to work within the same industry once the LLC is dissolved. Inform employees and clients of the dissolution as promptly as possible, being sure to be open and professional as you do so.
The dissolution process for a Florida LLC can be daunting. But, by following the steps detailed above carefully, you can close out the business efficiently and avoid further complications.